Margherita Pizza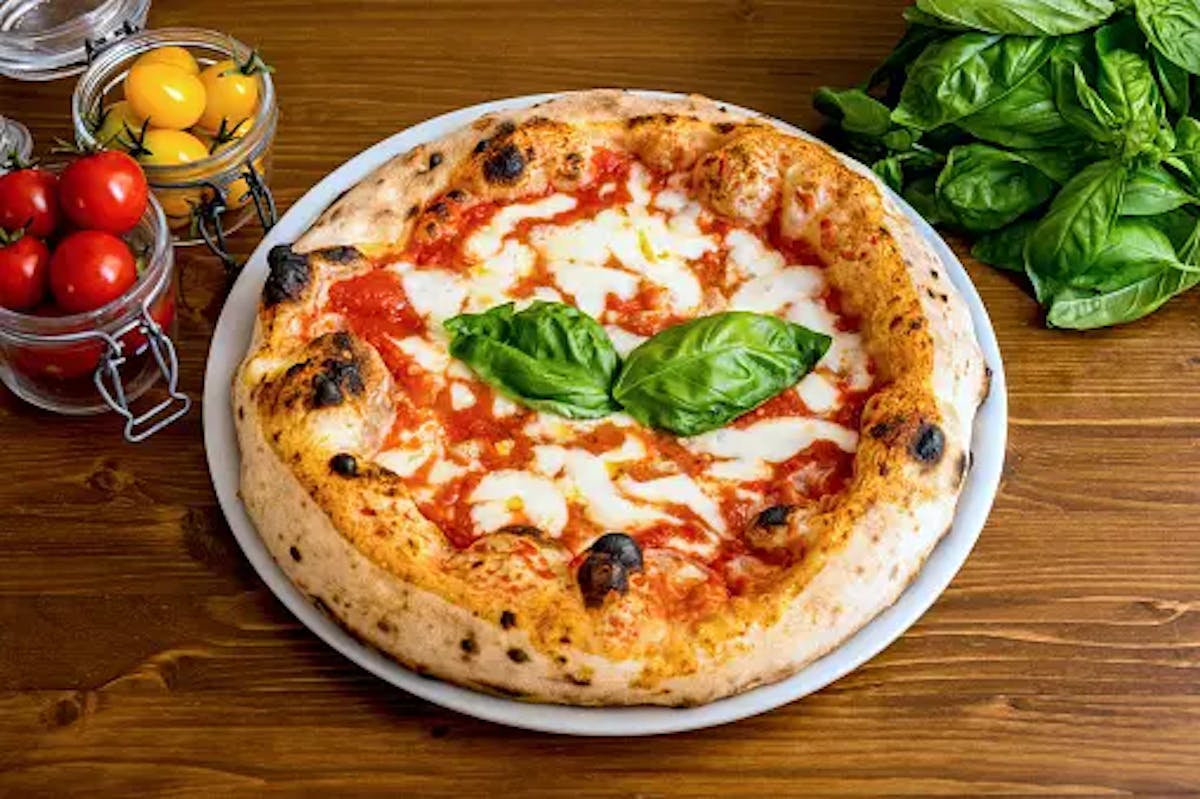 Author - By IFC Culinary Editor, Date: October 21, 2020
Prep. Time: 50minutes
Cook Time: 7-10minutes
Total Time: 60 minutes
DESCRIPTION
This wonderful pizza recipe includes all you need to know about making the tasty homemade Margherita Pizza. The origins of the Pizza Margherita date back to 1889 when Raffaele Esposito invented the famous pizza in honor of the beautiful Queen Margherita of Savoy, who was married to King Umberto, the Italian King. The story says that the queen grew tired of the gourmet French cuisine that was so popular amongst Royals, so she summoned the most famous pizza maker in Naples who ended up creating the Pizza Margherita.


INGREDIENTS
• 1 Delallo Italian Pizza Dough Kit
• Olive oil
• Sea Salt
• Up to 1/2 cup of tomato sauce (try and use San Marzano tomato sauce)
• 4 tablespoons of finely grated Parmigiano-Reggiano cheese
• 6 ounces of fresh mozzarella cheese cut into
• 1/2-inch pieces. We would not recommend mozzarella packed in water.
• 1 Plum tomato, sliced
• Fresh basil
• Dried oregano
• Red pepper flakes


INSTRUCTIONS
- Prepare Pizza Dough: If you purchase one of our Pizza Dough kits, it is easy to the follow the package directions. Combine the flour mix and yeast packet in a large mixing bowl with 1 1/4 cups of lukewarm water, stir with a fork until dough begins to form. Knead by hand for 3 minutes or until the dough is soft and smooth. Transfer to a clean, lightly oiled bowl and cover tightly with plastic wrap.
- Allow the dough to rise in a warm place until doubled (approximately 45 minutes). Any unused dough can be refrigerated for up to 3 days.
- Divide dough into 2-4 equal pieces, depending on size and thickness desired. Form pizza crust by hand on a lightly oiled baking pan or pizza stone.
- Pre-heat oven to 500 degrees. - Brush olive oil and sea salt on the pizza crust. Spread 1/4 to 1/2 cup of tomato sauce, 2 tablespoons of finely grated Parmigiano Reggiano cheese, 6 ounces of fresh mozarella cheese (cut into 1/2-inch pieces), and 1 plum tomato (sliced) evenly on pizza crust.
- If you haven't already, gently slide the pizza on the heated baking stone or baking sheet lined with parchment paper. Bake at 500 for 7-8 minutes on until crust is golden and cheese is bubbling. Remove pizza from oven, and add additional Parmigiano Reggiano, fresh basil, and crushed red pepper and serve promptly.